Quebec Highlands Animal Clinic is a full-service companion animal veterinary clinic. It is our commitment to provide quality veterinary care throughout the life of your pet.
Our services are designed to assist in routine preventative care, early detection and treatment of diseases as your pet ages, and complete medical, dental and surgical care as necessary during his or her lifetime. We understand the special role your pet plays in your family and are dedicated to becoming your partner in your pet's health care.
We take the same care with your pet as we would our own to practice the highest quality medicine and surgery. We place a strong emphasis on client education to help you make a stronger bond with your pet. Our entire healthcare team is committed to providing personal attention to the unique concerns of each individual pet owner.
You will find information on our site about our services, our healthcare team and an extensive, accurate information library to assist you research all aspects of pet health, behavior and illnesses.

Years in Practice: 25
Education:
Bachelor's of Science in Civil Engineering, Doctor of Veterinary Medicine
Nina T. Clow, DVM, Owner
Although born in Milwaukee, Wisconsin, in May of 1960, Dr. Clow's family moved to California in 1963 where it was "a little bit warmer".  The majority of Dr. Clow's childhood was spent on an Almond Ranch in the San Joaquin Valley, which taught her the importance of hard work and perseverance.
Dr. Clow's first BS was from Fresno State University in Surveying and Photogrammetry out of the Civil Engineering Department in 1983.  She worked for Pacific Gas and Electric Co. for 3 years as a Land Surveyor, then was promoted to Crew Chief.  The life of hotel rooms did not suit her, so she resigned and started the long journey to become a veterinarian.
Dr. Clow attended Fresno State University from 1983-1986, taking PreVet courses.  She graduated from Washington State University, Pullman, Wa, School of Veterinary Medicine in 1994.  She first practiced in Reno, Nevada for 3 years at a small animal practice where she discovered the challenge of exotic animal medicine, soft tissue surgery, and treating lots of Parvo/Distemper cases.  In 1998, the family moved to Denver, CO, where she has been practicing at Quebec Highlands Animal Clinic ever since.  Dr. Clow lives with her husband in Highlands Ranch Co, has a wonderful son in college, and live with a Smooth Fox Terrier named Mikey, and a Maine Coon cat named Theo.  Dr. Clow enjoys flyfishing, gardening, biking, hiking with the dogs in the Rockies, and great outdoor concerts.
Education:
Bachelors of Arts, Biology, Japanese, Doctor of Veterinary Medicine
Dr. Megan Lowthorp
Dr. Lowthorp has been an associate veterinarian with Quebec Highlands Animal Clinic since June of 2019. She earned her Bachelors of Arts, Biology and Japanese at Wellesley College, and her Doctorate of Veterinary Medicine at Purdue University College of Veterinary Medicine.
Dr. Lowthorp's passion that brought her to the veterinary field was to be able to combine her extensive knowledge of science with her knowledge of animals. She knew that she was in the right professional the moment she had done her first solo surgery.
Her professional interests include anesthesia, analgesia, ophthalmology and preventative medicine.
Outside of her practice, Dr. Lowthorp enjoys spending time with her furry family, Miki (Dog), Lily and Marshall (Cats), as well as skiing (downhill & water) and bicycling (road & mountain).
Education:
Associate's Degree in Applied Science
Erik, Office Manager
Before becoming the Office Manager of Quebec Highlands Animal Clinic, I was (and still am) a veterinary technician. I am a native of Denver, Colorado, and I have been in the veterinary field for 18 years. I have an Associates of Science degree in veterinary technology and am currently finishing my Bachelor of Science in Business Management.
I knew as a kid that I wanted to work with animals, but I'll admit that I did not know what I was getting into when I chose to become a technician. I never thought of myself as a student of biology. However, I really enjoy working with the animals, as well as their human family. I especially enjoy it when I win over a grumpy cat.
I have two cats: a calico named Sally, and a black cat named Kasey. I also have a large family, which I enjoy spending time with. I also enjoy learning about different types of animals, most anything to do with arts and music, and I love to sing. I also enjoy traveling whenever I get
the chance.
Education:
Bachelor of Science & Biology, Associates of Applied Science
Anny, Technician
Anny has been with Quebec Highlands Animal Clinic since 2017. She earned her Bachelor of science from NMIMT in 2013 and earned her Associate of Applied Science in Veterinary Technology from Bel-Rea Instutute in 2015.
Since she was little, she has always had a passion for animals which lead to her interest in the veterinary field. One of the things that she loves most about her job is how happy it makes her to see how excited dogs are from the smallest gesture – it's contagious!
When she's not at work, Anny spends time with her boyfriend Jonthan and her lovely mutt Mack (Mikachu), playing video games, reading,  enjoying food and growing succulents.
Karla, Receptionist
Karla joined Quebec Highlands Animal Clinic in July of 2021. She was born in Iron Mountain Michigan but came to Colorado in 1985. After 20 years in the cable and Telecom industry, she needed a change and wanted to follow her true passion in life: animals. Karla knew she found the right path when she found Quebec Highlands Animal Clinic. They have a truly amazing team of people that care about animals, their team, and education.
Outside of work, Karla enjoys spending time with her daughter, her animals, gardening, and paddle boarding.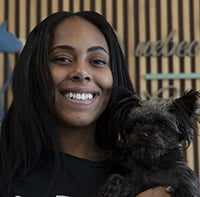 Tahleah, Receptionist
Tahleah is currently in school receiving her Bachelor's Degree in Fashion Design and Merchandising at RMCAD. She came to Quebec Highlands Animal Clinic a year ago from a retail manager position she worked for 3 years. She grew up around animals and developed a desire to care for animals in need. If she's not sewing, she spends her time outside of work with friends and family, including her puppy, Elvira. Elvira enjoys fetch, long walks, and cuddles.